Five Things You Should Do This Weekend
After you see Fresno State lose to Boise tonight. Yeah, I said it …
1. SWING WITH YOUR VOODOO DADDY
Big Bad Voodoo Daddy headlines Warnors Theatre tonight. You remember them best as one of the big names from the swing movement of the late 90s. Just 'cause swing fizzled out, doesn't mean they did. Check out my interview to learn more. Ticket info and whatnot here. Great chance to see the beautiful Warnors Theatre, if you haven't been in a while.

2. TAME THAT PUSSYCAT
Remember the debacle last time Faster Pussycat was supposed to play in Fresno? The promoter never paid the band, so they never played and it was lots and lots of drama. Well, Faster Pussycat is back in Fresno tonight at Starline. Different promoter this time around, so hopefully there's no drama.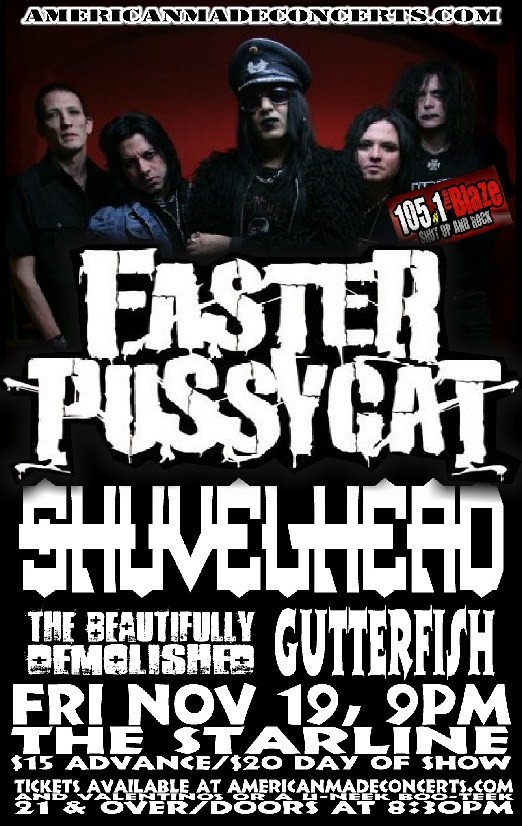 3. BRING MORE RUCKUS
If last week's sold-out Ghostface Killah show didn't satisfy your Wu-Tang Clan fix, another couple of members from the famous hip-hop group visit this weekend. Visalia's The Cellar Door hosts Inspectah Deck and Masta Killa on Saturday. Swarm up, Wu fans!
4. HOP ABOARD THE 'I DO NOT EXIST' BANDWAGON
I told you yesterday that I Do Not Exist is one of my favorite new local bands, even gave you a free MP3 to sample. There's a good chance to see them, Saturday night at Starline, as part of a whole bill that's full of talent.
5. GET YOUR BODY ROCKED
My favorite DJ duo in town — F-Plus and Don D — are back together doing another installment of their Body Rock party Saturday night at Veni Vidi Vidi. It promises to be funky dope.
WHAT ARE YOUR WEEKEND PICKS AND PLUGS?
LEAVE 'EM IN THE COMMENTS!